Repeat Prescriptions
These can be requested by ticking the items you require on the slip issued with your prescription and placing it in the wooden box by the front door. This is emptied several times each day.
If you wish to register to order your prescriptions via this website please go to the Online Services Tab for more information. New users to the system are required to complete a simple registration.
If you have requested your prescription to go to Helmsley Pharmacy please allow 48 hours between request and collection: some items may need to be ordered from our supplier. If possible, order all items required for the following month.
Please visit the pharmacy page above for more information on the services available.
Medication Reviews - Patients on repeat medication will be asked to see a doctor, Nurse Practitioner or Practice Nurse at least once a year to review these regular medications and notification should appear on your repeat slip. Please ensure that you book an appropriate appointment to avoid unnecessary delays to further prescriptions.
                 Pharmacy
Helmsley Pharmacy
Carlton Road
Helmsley
York
YO62 5HD
Tel: 01439770099
Fax: 01439771169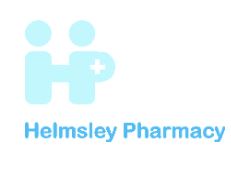 Your Pharmacist:
Mrs Dawn Ward B.Pharm (Hons) MRPharmS
This pharmacy is owned by:
RyeChem Ltd
Carlton Road
Helmsley
York
YO62 5HD
Opening Hours
| | |
| --- | --- |
| Monday | 09:00 - 17:30 |
| Tuesday | 09:00 - 17:30 |
| Wednesday | 09:00 - 17:30 |
| Thursday | 09:00 - 17:30 |
| Friday | 09:00 - 17:30 |
| Weekend | closed |
As your local community pharmacy, we can offer a wide range of services and facilities for you and your family:
Dispensing
We dispense NHS prescriptions and will give advice on how to get the most benefit from your medicines.
Repeat Dispensing
We can arrange and dispense NHS repeat dispensing prescriptions issued by your doctor. Ask us for more information about this service.
Medicine Containers
All medicines are dispensed in child resistant containers unless you request us not to do so. A Dosette (Nomad) box service is available on request.
Our pharmacist can advise you on safe storage of medicines.
Please remember to keep all medicines out of reach and sight of children.
Unwanted Medicines
Please return all unwanted and out-of-date medicines to the pharmacy for safe disposal.
Health Advice and Self-care
Our Superintendent Pharmacist and trained assistants are available for advice on all medicines and minor ailments. Please let our staff know if you wish to have this discussion in a private room. We can also give you advice on following a healthy lifestyle, for example, advice on how to stop smoking, or healthy diets.
We can direct you to other sources of advice and assistance if we cannot help you ourselves.
Medicines Use Reviews
You can make an appointment with our pharmacist to discuss how you are getting on with your regular medicines. It will allow you to learn more about your medicines and ask any questions you may have, and if you are having difficulties taking your medicines our pharmacist may be able to assist. Ask for more details on this service.
Medicines Sales
We stock a wide range of over the counter medicines and also vitamins and mineral supplements. If you do not see what you are looking for on our shelves please talk to our staff as we may be able to order it in for you.
Holiday Healthcare
We can advise on medical requirements for travellers, including anti-malaria treatments.
Emergency Supplies
If you need one of your regular medicines in an emergency when you are unable to contact your doctor, we may be able to help. We must stress that this can only be done in genuine emergencies.
Disabled Customers
There is wheelchair access for disabled customers via the pharmacy entrance and a disabled parking place is available for use.
A lowered counter is also provided.
Patient Medication Records
Our computer allows us to keep records of all your prescriptions dispensed by us. This helps us check for possible problems, such as reactions between medicines and will help us deal with any queries you may have.
We comply with the Data Protection Act and the NHS code of practice on confidentiality.
Prescriptions Charges and Exemptions
Extensive exemption and remission arrangements protect those likely to have difficulty in paying charges (NHS prescription and dental charges, optical and hospital travel costs).
The NHS prescription charge is a flat-rate amount which successive Governments have thought it reasonable to charge for those who can afford to pay for their medicines. Prescription prepayment certificates (PPCs) offer real savings for people who need extensive medication.
NHS charges from 1st April 2016
These charges apply in England only. In Northern Ireland, Scotland and Wales prescriptions are free of charge.
Prescription (per item): £8.40
12-month prepayment certificate (PPC):
3-month Pre-payment certificate:
If you will have to pay for four or more prescription items in three months, or more than 15 items in 12 months, you may find it cheaper to buy a Pre-Payment Certificate.
Telephone advice and order line 0845 850 0030
General Public - Buy or Renew a PPC On-line
There is further information about prescription exemptions and fees on the NHS website
Please leave two working days between requesting and collecting your medication. Some items may have to be ordered in especially as they are not prescribed for many patients and are not therefore kept in stock, thank you.